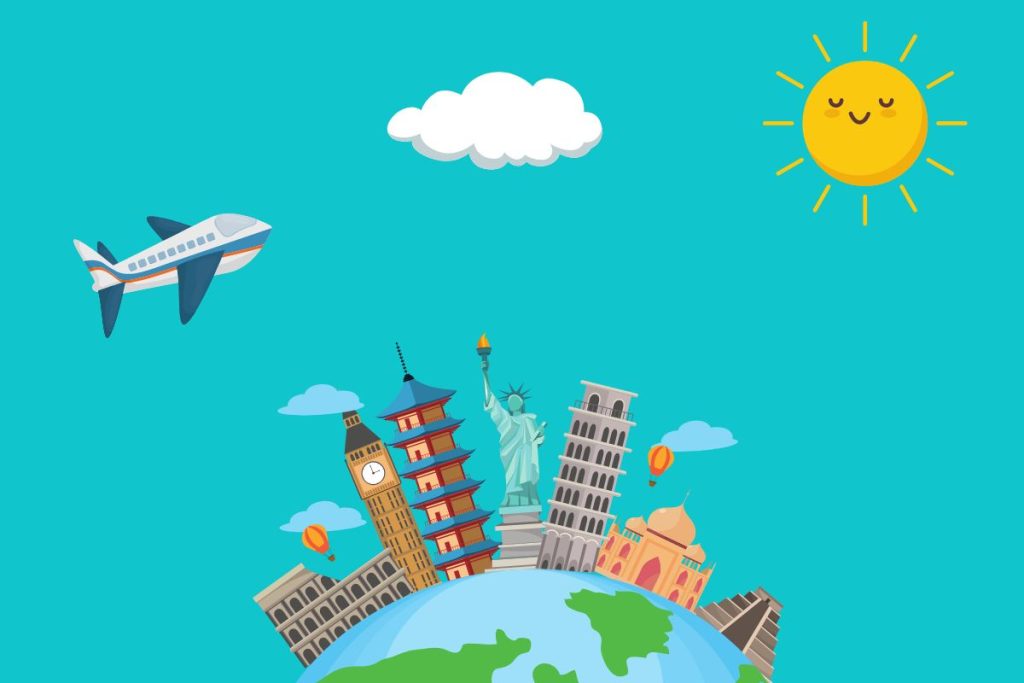 Best travel reward programs for content creators
In today's digital age, content creators have found innovative ways to share their stories and experiences with the world. Whether it's through captivating videos, engaging blog posts, stunning photography, or insightful podcasts, these creators are constantly on the move, seeking inspiration from various corners of the globe. But traveling extensively can be expensive, which is where our best travel reward programs for content creators come into play. These programs offer content creators the opportunity to turn their wanderlust into tangible benefits, enabling them to explore new destinations without breaking the bank. In this comprehensive guide, we'll explore the top travel reward programs that cater specifically to content creators.
Airline Miles Reward Programs for Content Creators
One of the most traditional yet effective ways for content creators to earn travel rewards is through airline miles programs. These programs allow you to accumulate miles for every flight you take with a particular airline. Over time, these miles can be redeemed for free flights, upgrades, and other travel-related perks. For content creators who find themselves jetting off frequently, these programs can be a game-changer.
The JetBlue TrueBlue Rewards Program offers a fresh and customer-centric approach to airline loyalty programs. With a commitment to transparency and simplicity, TrueBlue provides travelers with a straightforward way to earn and redeem points for flights. Unlike many traditional programs, TrueBlue's points don't expire, giving users the flexibility to accumulate points over time for their dream trip. Moreover, the program introduces a unique feature called "Points Pooling," enabling family members and friends to combine their points for faster rewards. This inclusive approach fosters a sense of community and encourages shared travel experiences.
One of TrueBlue's standout features is its award-winning customer service, which resonates with its customer-friendly ethos. Members can also benefit from exclusive promotions and sales, maximizing the value of their points. With a focus on transparency, flexibility, and customer satisfaction, the JetBlue TrueBlue Rewards Program offers a refreshing take on travel rewards, making it a compelling choice for both frequent flyers and occasional travelers.
---
United Airlines MileagePlus is a premier travel rewards program designed to transform your travel experiences into memorable journeys. With a vast network of destinations, United Airlines allows you to earn miles while exploring the world. From short domestic hops to intercontinental adventures, every mile traveled brings you closer to exciting rewards.
The program's flexibility shines through its numerous earning opportunities, including flights with United Airlines and its partners, hotel stays, car rentals, and shopping through the MileagePlus Shopping portal. Plus, the co-branded United MileagePlus credit cards offer accelerated earning potential and exclusive benefits. As you accumulate miles, you can redeem them for flights, upgrades, hotel stays, car rentals, and even merchandise. With elite status tiers, you can enjoy privileges like priority boarding, lounge access, and enhanced customer service. United Airlines MileagePlus is not just a rewards program; it's your passport to unlocking new horizons and turning your travel aspirations into reality.
---
Southwest Airlines Rapid Rewards is a distinctive loyalty program that caters to travelers seeking flexibility and value. With a focus on simplicity and customer-friendly features, Rapid Rewards has garnered a loyal following. The program's cornerstone is its revenue-based earning system, which ties the number of points earned to the price of the fare. This approach eliminates the complexities associated with traditional mileage-based systems and ensures that travelers are rewarded in proportion to their spending.
One of the standout features of Rapid Rewards is the absence of blackout dates, allowing members to redeem their points for flights at any time. This flexibility, coupled with the option to change or cancel bookings without hefty fees, adds to the appeal for travelers who value adaptability. Rapid Rewards also offers elite tiers – A-List and A-List Preferred – providing benefits like priority boarding and bonus points. This program's commitment to simplicity, flexibility, and customer-centric benefits positions it as a go-to choice for travelers looking for a hassle-free loyalty experience.
---
The Alaska Airlines Mileage Plan stands out as a stellar option for content creators due to its extensive partner network and unique benefits. Beyond earning miles on Alaska Airlines flights, the program has alliances with international carriers such as American Airlines, Emirates, and British Airways. This collaboration not only expands the reach of destinations but also offers diverse experiences for content creation.
What sets the Alaska Airlines Mileage Plan apart is its holistic approach to rewards. Creators can accumulate miles not only through air travel but also via stays at partner hotels, car rentals, and credit card partnerships. The innovative "Mileage Plan Shopping" platform enables content creators to earn bonus miles through online purchases from partnered retailers, even when they're not airborne.
---
The Air France KLM Flying Blue program stands as a versatile and expansive option for travelers seeking rewards across a wide network. This loyalty program encompasses both Air France and KLM flights, offering a seamless experience for travelers within its extensive global reach. With its dynamic earning structure, members can accrue miles based on distance, fare class, and membership level, catering to a variety of travel preferences. What sets Flying Blue apart is its wide array of partners, enabling members to earn and redeem miles with airlines, hotels, car rentals, and more. This flexibility extends to the program's redemption options, which encompass flights, upgrades, seat selection, and lounge access. Moreover, the program's four-tier elite status system – Explorer, Silver, Gold, and Platinum – adds an element of exclusivity, providing members with additional benefits like priority check-in, extra baggage allowance, and access to premium lounges. All in all, the Air France KLM Flying Blue program offers travelers an expansive range of opportunities to make the most of their journeys while enjoying a host of benefits and rewards.
---
The Etihad Guest Program, offered by Etihad Airways, is a comprehensive travel rewards initiative designed to cater to a diverse range of travelers. Renowned for its airline partnerships and unique earning opportunities, this loyalty program has gained popularity among frequent flyers and travel enthusiasts alike.
At the core of the Etihad Guest Program is its versatility in earning and redeeming points. With a wide network of airline partners, members can accumulate points not only through Etihad Airways flights but also by flying with partner airlines across various alliances. This extends the program's reach to a global scale, allowing travelers to earn rewards while exploring multiple destinations. Additionally, the program's partnership with various non-airline brands, spanning hospitality, finance, and retail sectors, provides members with diverse avenues to earn points through everyday activities. These earned points can then be utilized for flight bookings, upgrades, hotel stays, and even merchandise, offering members a comprehensive range of redemption options. With tailored benefits for elite members, including lounge access and priority services, the Etihad Guest Program continues to establish itself as a compelling choice for travelers seeking both luxury and practicality.
---
Qatar Airways Privilege Club stands as a premier loyalty program, offering a realm of exclusive benefits and rewards for travelers. With a commitment to providing an unparalleled journey, this program caters to both frequent flyers and avid explorers alike. Privilege Club members are granted access to a world of advantages, from earning Qmiles with every flight to enjoying priority services that redefine travel convenience.
The program's tiered membership structure, comprising Burgundy, Silver, Gold, and Platinum levels, ensures that each member's loyalty is acknowledged and rewarded. From priority check-in and lounge access to bonus Qmiles and excess baggage allowances, Qatar Airways Privilege Club transforms ordinary flights into extraordinary experiences. Moreover, members can earn Qmiles not just through flights with Qatar Airways but also through an extensive network of partner airlines, hotels, car rentals, and retail partners. This versatility adds a new dimension to the rewards journey, allowing members to accumulate Qmiles even when they're not in the air. Whether it's a leisurely escape or a business venture, Qatar Airways Privilege Club brings a world of travel advantages to its members, making every journey an unforgettable chapter in their travel narratives.
---
Copa Airlines ConnectMiles is a robust loyalty program designed to cater to the travel needs of both frequent and occasional flyers. Operating as the flagship carrier of Panama, Copa Airlines has established a reputation for seamless connectivity across the Americas. ConnectMiles builds on this legacy by offering travelers a range of benefits, from earning and redeeming miles to enjoying elite status privileges.
One of the program's standout features is its accessibility. ConnectMiles not only rewards passengers for Copa Airlines flights but also extends its benefits to partner airlines within the Star Alliance network. This expansive reach translates to a broader range of travel options, making it particularly attractive for globetrotters. Additionally, ConnectMiles offers different membership tiers, such as Silver, Gold, and Platinum, each with its own set of advantages like priority check-in, complimentary upgrades, and lounge access. Whether you're a frequent business traveler or an occasional vacationer, Copa Airlines ConnectMiles provides a tailored experience that reflects the airline's commitment to enhancing the journey for every passenger.
---
Hotel Loyalty Programs for Content Creators
While flights are a crucial aspect of travel, accommodation plays an equally important role. Hotel loyalty programs offer content creators a chance to earn rewards for their stays, ranging from complimentary nights to room upgrades and exclusive experiences.
Hilton Honors is renowned for its wide range of hotel options and generous rewards. With brands like Conrad, Waldorf Astoria, and Hampton, content creators can find accommodations that suit their preferences and budget. The program offers elite status tiers, which come with benefits like room upgrades, complimentary breakfast, and access to executive lounges. These perks can enhance the overall travel experience for content creators.
Hilton Honors extends its benefits to co-branded credit cards as well. By holding a Hilton Honors American Express Card, content creators can earn points not only through hotel stays but also through purchases made on the card. The card's complimentary Silver status and opportunities for Gold status through spending thresholds provide content creators with elevated experiences and greater value.
---
The IHG Rewards Club stands as a premier loyalty program, extending a world of benefits to avid travelers and content creators alike. With a vast network of hotels across the globe, IHG offers creators a diverse range of accommodations that cater to their unique narratives. From luxury stays at InterContinental properties to the convenience of Holiday Inn, the program ensures that every journey is enriched with comfort and convenience. The IHG Rewards Club doesn't just stop at stays; it extends its perks to dining, entertainment, and even experiences, allowing content creators to immerse themselves in the essence of their destinations while earning points that can be redeemed for future travels. This comprehensive approach resonates with creators seeking a holistic travel experience that aligns seamlessly with their storytelling endeavors. As a result, IHG Rewards Club emerges as a valuable companion on the journey of content creators, elevating their travel adventures with every stay and experience.
The program's tiered membership structure adds another layer of value, granting creators access to exclusive offers, room upgrades, and even the ability to earn and redeem points across IHG's extensive portfolio. Furthermore, the IHG Rewards Club's partnerships with various airlines and credit card companies enhance the program's appeal, providing creators with multiple avenues to accelerate their points accumulation. With a commitment to enhancing every aspect of a creator's travel journey, the IHG Rewards Club continues to be a prominent choice for those who seek exceptional experiences and valuable rewards.
---
The World of Hyatt reward program is a haven for travelers seeking an elevated hospitality experience. With a diverse portfolio of over 1,000 properties worldwide, ranging from luxurious resorts to urban retreats, the program caters to every type of traveler. Members can earn points through stays, dining, spa experiences, and even participating in fitness activities at Hyatt properties. The program's tiered membership levels – Discoverist, Explorist, and Globalist – offer progressively enhanced benefits, such as room upgrades, late checkouts, and access to exclusive lounges. The program also features a unique collaboration with Small Luxury Hotels of the World, expanding its reach to charming boutique properties. With the ability to redeem points for free nights, dining, and even experiences through FIND, Hyatt's unique offering sets it apart in the world of travel rewards.
The World of Hyatt credit card further enhances the program, allowing cardholders to earn bonus points on Hyatt spend, as well as accelerate their elite status progression. The program's commitment to personalized experiences, coupled with its ever-expanding global footprint, makes the World of Hyatt a compelling choice for travelers who value both luxury and authenticity. Whether it's exploring the bustling streets of a new city or unwinding on a pristine beach, the World of Hyatt reward program enriches journeys by transforming points into unforgettable memories.
---
Choice Privileges is a versatile and rewarding loyalty program that caters to travelers seeking flexibility and value. With a diverse portfolio of over 7,000 properties across the globe, including well-known brands like Comfort Inn, Clarion, and Quality Inn, Choice Privileges offers a wide range of options for content creators to choose from. The program's focus on affordability without compromising quality aligns well with the needs of budget-conscious travelers.
One of the standout features of Choice Privileges is the "Book on Behalf of Others" option, allowing content creators to book stays for their clients or travel companions, making it ideal for business and group travel. The program's points system is straightforward, and members can earn points through hotel stays, credit card partnerships, and even by participating in the "Your Extras" program, which offers rewards such as gift cards or airline miles upon check-in. With a user-friendly app and a simple redemption process, Choice Privileges ensures that content creators can easily manage their rewards and make the most of their travel experiences.
---
Marriott Bonvoy boasts a diverse portfolio of properties, ranging from budget-friendly options to luxurious resorts. Content creators can earn points by staying at any of the participating Marriott hotels, including brands like Ritz-Carlton, Sheraton, and W Hotels. One of the program's standout features is its Moments platform, which provides access to unique events and experiences that money can't usually buy.
Marriott Bonvoy takes its rewards program a step further by offering a co-branded credit card in partnership with American Express. This card allows content creators to earn points not only through hotel stays but also through everyday purchases. The card's sign-up bonus, combined with its accelerated points earning structure, can significantly expedite your journey towards free stays and other travel rewards.
---
Content Creators Mastering the Art of Reward Maximization
While enrolling in travel reward programs is a fantastic way for content creators to save on travel expenses, there are several strategies to optimize these benefits further:
Strategic Spending: Focus your credit card purchases on categories that offer bonus points, such as travel, dining, and entertainment.
Combine Points: Some programs allow you to transfer points between partners. This flexibility can help you achieve your desired redemption faster.
Stay Informed: Keep an eye out for promotions, flash sales, and limited-time offers that can boost your earning potential or provide better redemption rates.
Plan Ahead: Award availability can be limited, especially during peak travel seasons. Booking your flights and accommodations well in advance increases your chances of finding suitable options.
Utilize Travel Partners: Many travel reward programs have partnerships beyond their main brand. Research and explore these partners to find the best deals.
Conclusion: Unveiling New Horizons
For content creators, travel isn't just a journey; it's a narrative waiting to be told. Travel reward programs are the ink that fills the pages of their stories, turning dreams into tangible experiences. From taking flight with airline miles to experiencing luxury through hotel loyalty, these programs empower content creators to curate their adventures. Co-branded credit cards are the tools that turn those aspirations into reality, while specialized programs celebrate the unique power of storytelling.
As content creators traverse the world, they're not just traveling; they're crafting stories that transcend borders and connect cultures. Each mile, each hotel stay, each experience captured, is a brushstroke in the masterpiece of their narratives. So here's to the creators who turn miles into moments and points into possibilities. As they explore, create, and inspire, they redefine the art of travel, inviting the world to embark on their transformative journeys.